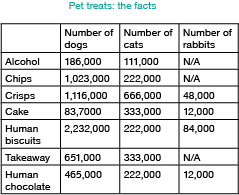 PDSA warns of pet obesity crisis fuelled by bad diets.
A combination of snacks, scraps, and takeaway leftovers continues to fuel an obesity crisis among our pets, according to leading vet charity, PDSA.
With new data showing that a staggering 5.5 million* cats, dogs and rabbits in the UK are being fed treats every day, the charity's vets are warning owners that they could be drastically shortening their pet's life expectancy.
Owners have admitted to indulging their pets by giving them fatty, sugary, and in some cases dangerous, foods. These include cake, chocolate, biscuits, crisps, chips, takeaway and even alcohol.
On top of all these unhealthy treats, over 4 million pets (2.6 million dogs, 1.4 million cats and 12,000 rabbits) are fed table scraps or leftovers as their main meals**. These diet disasters are taking their toll, according to PDSA, with a third of dogs and a quarter of cats now classed as overweight or
Want to see the rest of this article?
Would you like to see the rest of this article and all the other benefits that Issues Online can provide with?