This article is
4 years old.
Click here
to view the latest articles for this topic.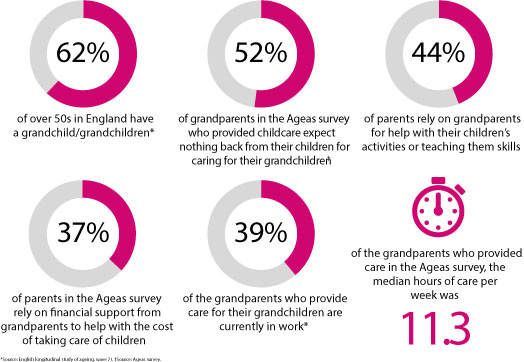 An extract from an article by The International Longevity Centre.
Executive summary
Grandparents provide immense support to parents and grandchildren in the UK. With the cost of childcare increasing and both single and two-parent families much more likely to be working, this assistance is vital.
They help with financial aid, care-giving, and skills and hobbies.
In this report we've looked more closely at the type of support given and how grandparents feel about providing it.
Close relationships between grandparents and their children and grandchildren are beneficial to all. They must be encouraged and supported, so we have set out some recommendations for government, employers and education providers that would support achieving this. We hope it goes some way to showing the importance of grandparents and how they can be better acknowledged.
This report finds that
37% of parents in Ageas's 2016 Grandparent Army
Want to see the rest of this article?
Would you like to see the rest of this article and all the other benefits that Issues Online can provide with?
Useful related articles
Video and multimedia references
Statistical information and reference material
Glossary of terms
Key Facts and figures
Related assignments
Resource material and websites