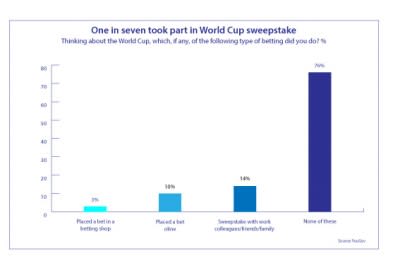 James Mundell, Director, YouGovConsumer Research
New YouGov custom research underlines how important the World Cup has been in attracting new customers to betting companies.
YouGov's research reveals how the scale of excitement and enthusiasm generated by the tournament has translated into involvement into betting, whether that was in a fun office-based competition, or with an established betting organisation.
The study shows that 14% of Brits (around seven million people) took part in a World Cup sweepstake with their friends, family or workplace, including almost a quarter (24%) of full-time workers.
Outside of the work environment, YouGov data suggests that six million people in the UK placed a bet on the tournament, either in a traditional high-street betting shop, or online (equivalent to 12% of the adult population). Crucially for online brands, more than three times as many people placed their bet online than in a physical bookmaker.
The exciting element of this for betting b...
Want to see the rest of this article?
Would you like to see the rest of this article and all the other benefits that Issues Online can provide with?
Useful related articles
Video and multimedia references
Statistical information and reference material
Glossary of terms
Key Facts and figures
Related assignments
Resource material and websites