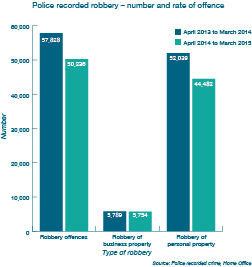 Latest figures from the Crime Survey for England and Wales (CSEW) showed that, for the offences it covers, there were an estimated 6.8 million incidents of crime against households and resident adults (aged 16 and over). This is a 7% decrease compared with the previous year's survey, and the lowest estimate since the CSEW began in 1981.
The decrease in all CSEW crime was driven by a reduction in the all theft offences category (down 8%). Within this group there were falls in the sub-categories of theft from the person (down 21%) and other theft of personal property (down 22%). However, there was no significant change in other sub-categories such as domestic burglary and vehicle-related theft.
In contrast to the CSEW, there was a 3% increase in police recorded crime compared with the previous year, with 3.8 million offences recorded in the year ending March 2015.
The rise in the police figures was driven by increases in violenc
Want to see the rest of this article?
Would you like to see the rest of this article and all the other benefits that Issues Online can provide with?