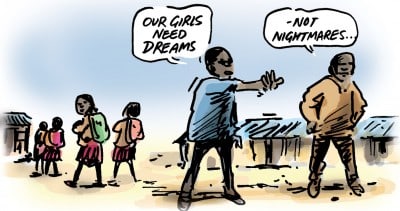 Kuuntunna is a farmer who has many dreams for his seven-year-old daughter. None of them involves seeing her become a child bride. Yet he fears this chilling prospect because he lives in a part of Ghana where many girls are abducted and forced into child marriage. Poverty and patriarchy drive the problem. But men can also be part of the solution. Meet four men who are standing with local women and ActionAid to tackle child marriage in northern Ghana.
The dad standing against child marriage
Sitting on the dusty porch of his daughter's school, Kuuntunna describes his hopes for her future.
'I wish that Porshia grows up to be a nurse or a teacher,' he said. 'I'm so happy that she goes to school, because I didn't go to school. So I wish that one day she grows up to be somebody more important than me.'
But Kuuntunna, who grows millet and guinea corn for a living, fears that Porshia's potential could be cut short by child marriage.
The family lives in the Upper West region of Ghana, wher...
Want to see the rest of this article?
Would you like to see the rest of this article and all the other benefits that Issues Online can provide with?
Useful related articles
Video and multimedia references
Statistical information and reference material
Glossary of terms
Key Facts and figures
Related assignments
Resource material and websites