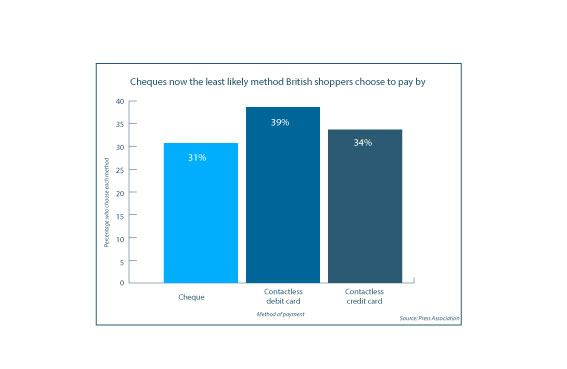 Britons are now more likely to pay by contactless card than with a cheque, new quarterly figures show.
Less than a third of Britons (31%) have used cheques in the past three months, down from 40% who used them to make a payment in 2015, analysts Mintel said.
Cheques are now the least likely method British shoppers choose to pay with, behind contactless debit cards (39%) and contactless credit cards (34%).
Just 28% of consumers used a contactless debit card to make a payment last year, but this has grown to 39%, while the use of contactless credit cards has increased from 28% last year to 34%.
However, 54% of consumers are not comfortable with the potential for a completely cashless society.
Almost all Britons (97%) used cash in the three months to April, making this the most common payment method.
Mintel financial services analyst Rich Shepherd said: "Part of the reason for the rapid increase in the use of contactless cards is the simp
Want to see the rest of this article?
Would you like to see the rest of this article and all the other benefits that Issues Online can provide with?
Useful related articles
Video and multimedia references
Statistical information and reference material
Glossary of terms
Key Facts and figures
Related assignments
Resource material and websites