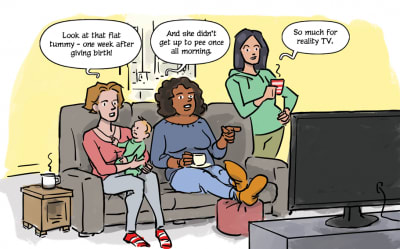 Advice about stitches, piles, bleeding and other physical changes after birth, plus tips to help you make a healthy recovery.
Stitches
If you've had stitches after tearing or an episiotomy (cut), bathe them every day to help prevent infection. Have a bath or shower with plain warm water then carefully pat yourself dry.
If your stitches are sore or uncomfortable, tell your midwife.
Painkillers can help. If you're breastfeeding, check with your pharmacist, midwife or GP before you buy over-the-counter painkillers.
Stitches usually dissolve by the time the cut or tear has healed, but sometimes they have to be taken out.
Going to the toilet
At first, the thought of peeing can be a bit frightening – because of the soreness. Drinking lots of water dilutes your urine, which may make it sting less.
Tell your midwife if:
you're finding it really difficult to pee
you feel very sore
you notice an unpleasant smell
You probably won't have a poo for a few days after the birth, but it's importan...
Want to see the rest of this article?
Would you like to see the rest of this article and all the other benefits that Issues Online can provide with?
Useful related articles
Video and multimedia references
Statistical information and reference material
Glossary of terms
Key Facts and figures
Related assignments
Resource material and websites