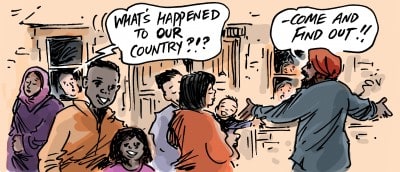 Racism and resistance
Imperial European powers found ways to justify the barbaric slave system and the invasion, colonisation and expropriation of foreign lands for the expansion of their wealth.
Britain amongst them created a hierarchy with white Europeans at the top and Africans and Asians at the bottom. Racism became embedded into the nation's structures of power, culture, education and identity.
People from Africa, the Caribbean and Asia were encouraged by government to come to England. But on arrival here they often faced racism and discrimination, which was not illegal in Britain until 1965.
Racist attacks
In 1919, there were large-scale racist attacks on 'coloured' communities in London, Manchester, Liverpool, Hull, South Shields as well as parts of Scotland and Wales.
There were other large-scale attacks in Liverpool in 1948, in Nottingham and Notting Hill in 1958 and at other times and places throughout the century since 1918.
One of the most well-known racist murders is t...
Want to see the rest of this article?
Would you like to see the rest of this article and all the other benefits that Issues Online can provide with?
Useful related articles
Video and multimedia references
Statistical information and reference material
Glossary of terms
Key Facts and figures
Related assignments
Resource material and websites