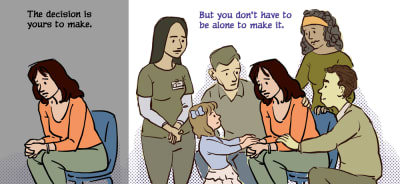 Most antenatal screening tests will not find anything, but there's a chance you'll be told your baby could be born with a condition. If this happens to you, there's always support available
Get as much information as you can
It can help to find out as much as you can about the condition your baby may have.
A specialist doctor (obstetrician) or midwife will explain what the screening results mean and talk to you about your options.
Your appointments
Your appointments should take place in a private and quiet space. But this can sometimes be difficult in a busy hospital.
You can bring your partner, a family member or friend with you.
It might help to write down any questions you have before you go. Ask the doctor or midwife to explain anything again if you need them to.
You could ask things like:
Can you explain what my baby may have?
What would that mean for my baby?
Will we need any special care or treatment before birth?
What would life be like for my baby if they have this condit...
Want to see the rest of this article?
Would you like to see the rest of this article and all the other benefits that Issues Online can provide with?
Useful related articles
Video and multimedia references
Statistical information and reference material
Glossary of terms
Key Facts and figures
Related assignments
Resource material and websites