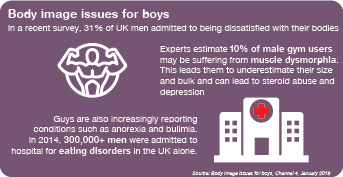 Boys are affected by the media's depictions of unrealistic body types. Help them attain their own ideal – not someone else's.
By Caroline Knorr
Did you know?
Body image develops early in childhood.
Body image is influenced by family and culture.
Exposure to traditional media is a risk factor for developing body dissatisfaction.
Three facts about body image
The proportion of undressed males in advertising has been rising steadily since the 1980s.
33–35% of boys aged six to eight indicate their ideal body is thinner than their current body.
The measurements of the male action figures young boys play with exceed even those of the biggest bodybuilders.
What's the issue?
The pursuit of a perfect body is no longer only a 'girl' thing. From padded Halloween superhero costumes that
Want to see the rest of this article?
Would you like to see the rest of this article and all the other benefits that Issues Online can provide with?