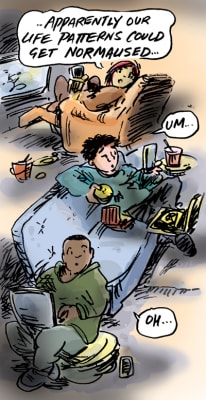 Only one in five participants had a BMI classified as obese - but nine out of ten 16-18 year olds admit not exercising enough

Three in ten did no exercise per week

Eight out of ten not eating enough fruit and veg, with one in ten eating no fruit or veg at all, and half only eating 1-2 portions a day
Older teenagers may be setting a course for lifelong obesity through inactivity and poor diets, according to a new study.
Scientists at the University of Reading say the findings add to the growing evidence showing radical changes are needed to influence the health and diet of children and teenagers, as the UK government launches a new nationwide strategy to tackle obesity.
The research, published in the International Journal of Environmental Research and Public Health, found that among 400 randomly-selected college students from two FE institutions in southern England, more than 90% said that they failed to meet nationally recommended exercise targets, with three in ten not doin...
Want to see the rest of this article?
Would you like to see the rest of this article and all the other benefits that Issues Online can provide with?
Useful related articles
Video and multimedia references
Statistical information and reference material
Glossary of terms
Key Facts and figures
Related assignments
Resource material and websites