This article is
4 years old.
Click here
to view the latest articles for this topic.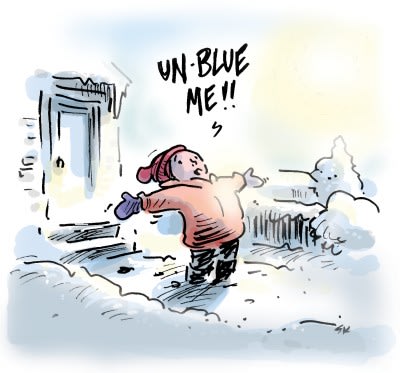 Lots of people get depressed in winter, or suffer from the 'winter blues'. The medical name for this winter depression is seasonal affective disorder (SAD).
If the short, dark days are getting you down, what can you do to feel like yourself again?
What causes winter depression?
Despite the fact that millions of us say we've suffered a winter-related low mood, it can feel as though the winter blues is just a myth.
But there's sound scientific evidence to support the idea that the season can affect our moods.
Most scientists believe that the problem is related to the way the body responds to daylight.
Alison Kerry, from the mental health charity Mind, says: "With SAD, one theory is that light entering the eye causes changes in hormone levels in the body.
"In our bodies, light functions to stop the production of the sleep hormone melatonin, making us wake up.
"It's thought that SAD sufferers are affected by shorter daylight hours in the winter. They produce higher melatonin, causing ...
Want to see the rest of this article?
Would you like to see the rest of this article and all the other benefits that Issues Online can provide with?
Useful related articles
Video and multimedia references
Statistical information and reference material
Glossary of terms
Key Facts and figures
Related assignments
Resource material and websites