This article is
6 years old.
Click here
to view the latest articles for this topic.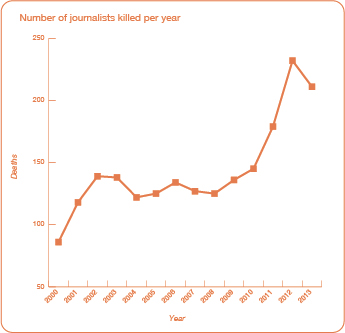 Global press freedom has fallen to its lowest level in over a decade, according to a Freedom House report released today. The decline was driven in part by major regression in several Middle Eastern states, including Egypt, Libya and Jordan; marked setbacks in Turkey, Ukraine and a number of countries in East Africa; and deterioration in the relatively open media environment of the United States.
Freedom of the Press 2014 found that despite positive developments in a number of countries, most notably in sub-Saharan Africa, setbacks were the dominant trend in every other region. The share of the world's population with media rated 'Free' remains at just 14 percent, or only one in seven people. Far larger shares live in 'Not Free' (44 per cent) or 'Partly Free' (42 per cent) media environments.
'We see declines in media freedom on a global level, driven by
Want to see the rest of this article?
Would you like to see the rest of this article and all the other benefits that Issues Online can provide with?
Useful related articles
Video and multimedia references
Statistical information and reference material
Glossary of terms
Key Facts and figures
Related assignments
Resource material and websites