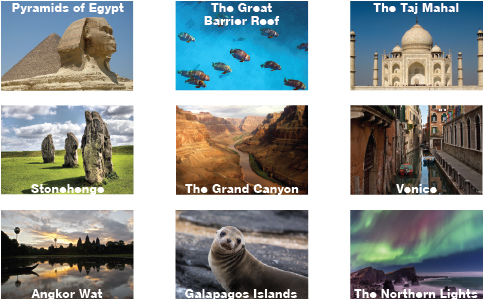 Maybe you're short on cash? Scared of flying? Or just quite fond of sitting at home eating chocolate in your onesie? Once upon a time, these afflictions would have left you stranded – unable to keep up with your trendy friends who spent the summer trekking around famous landmarks in a hot and sunny climate. But not any more! Now, thanks to the power of the Internet – and Google Street View – you can tour the famous sites you've always wanted to see, without ever leaving the comfort of your own sofa.
Here are our top nine 'must see' Street View locations:
Pyramids of Egypt
The Great Barrier Reed
The Taj Mahal
Stonehenge
The Grand Canyon
Venice
Angkor Wat
Galapagos Islands
The Northern Lights
© Cara Acred/Independence Educational Publishers, 2015
Want to see the rest of this article?
Would you like to see the rest of this article and all the other benefits that Issues Online can provide with?