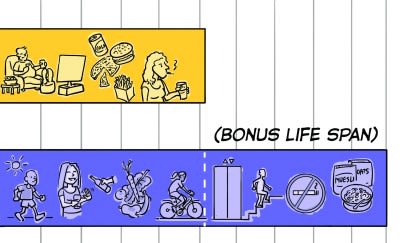 'Healthy habits extend disease-free life by up to a decade",' reports The Guardian.
More people are living longer, thanks to the rise in life expectancy. The downside is that more people are living with diseases like diabetes, cancer and heart disease.
Yet many of these diseases are linked to lifestyle-related risk factors like poor diet, being overweight and smoking.
A study of more than 110,000 people assessed 5 healthy habits, and estimated how much longer people with these habits live, and also how many of those extra years are likely to be disease-free.
The study found that women who adopted 4 or 5 of the habits were likely to live an extra 10 years without cardiovascular disease (heart disease and stroke), cancer or type 2 diabetes compared with women adopting none. The corresponding figure for men was 7 years.
The markers of a healthy lifestyle used by the researchers were:
not smoking
having a healthy body mass index (BMI) of 18.5 to 24.9
doing 30 minutes moderate to vigo...
Want to see the rest of this article?
Would you like to see the rest of this article and all the other benefits that Issues Online can provide with?
Useful related articles
Video and multimedia references
Statistical information and reference material
Glossary of terms
Key Facts and figures
Related assignments
Resource material and websites