This article is
4 years old.
Click here
to view the latest articles for this topic.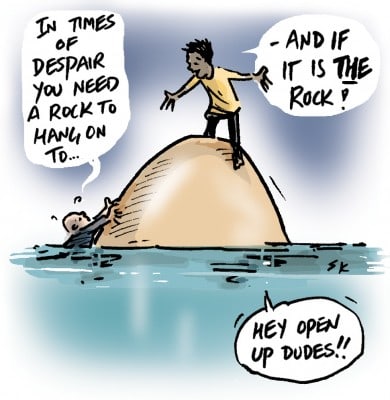 "Would you tell The Rock to man up?"
By Rachel Moss
Due to his early wrestling career, an acting CV dominated by action roles and his sheer size, Dwayne 'The Rock' Johnson is often heralded as a 'man's man' – an embodiment of everything that is stereo-typically masculine. It is this that makes it all the more poignant that the star has spoken candidly about his experience of depression after his mother's attempted suicide.
"I reached a point where I didn't want to do a thing or go anywhere. I was crying constantly," he told the Daily Express, before tweeting his 12.8 million followers to say "depression never discriminates".
"[It] took me a long time to realise it, but the key is to not be afraid to open up. Especially us dudes [who] have a tendency to keep it in. You're not alone," he added.
This isn't the first time Johnson has spoken about his mental ill health, having shared his experiences of depression in his early twenties with CNN in 2015. In light of his recent comments, ...
Want to see the rest of this article?
Would you like to see the rest of this article and all the other benefits that Issues Online can provide with?
Useful related articles
Video and multimedia references
Statistical information and reference material
Glossary of terms
Key Facts and figures
Related assignments
Resource material and websites