This article is
4 years old.
Click here
to view the latest articles for this topic.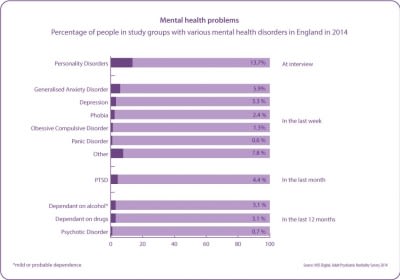 A widely-cited 2007 survey found one in four people in England experienced mental illness at various points in that year. This wasn't the original source of the one in four figure, which goes back to the 1980s.
The finding is regularly misinterpreted as meaning that one in four of us will suffer from a mental illness in our lifetimes.
The 2007 study measured different conditions in different time frames so the findings can't tell us how many have suffered from mental illness in any one of these periods.
A more recent version of the survey found that one in six people suffered from a common mental disorder at various points in 2014.
Separately, the Health Survey for England found in 2014 that one in four people reported having been diagnosed with at least one mental illness at some point in their lives. A further 18% said they'd experienced an illness but hadn't been diagnosed.
How common is mental illness?
'One in four' is widely cited in the UK as the number of people who suffe...
Want to see the rest of this article?
Would you like to see the rest of this article and all the other benefits that Issues Online can provide with?
Useful related articles
Video and multimedia references
Statistical information and reference material
Glossary of terms
Key Facts and figures
Related assignments
Resource material and websites