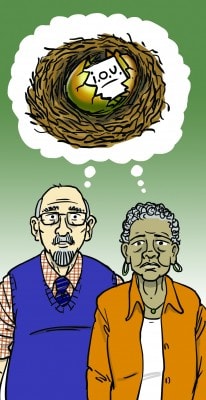 By Kevin Rose
Research from over 50s finance provider SunLife suggests that more than seven million over-50s have no private pension and more than eight million don't think they have enough money to fund their retirement.
In its Finances After 50 study, SunLife found that 28% of over-50s do not have a private or company pension.
The number of people over 50 in the UK is now more than 25 million, according to the ONS, which indicates that around seven million over-50s across the UK have no private pension savings.
SunLife's research shows that women over 50 are less likely to have a private pension than men of the same age – more than a third of women surveyed said they didn't have a private pension (35%) – which across the UK is around 4.6 million. Of the men surveyed, one in five said they didn't (20%), which is equivalent to around 2.4 million men across the UK.
The study also found that a third of over-50s – which equates to 8.3 million – say they don't think they have enough mon...
Want to see the rest of this article?
Would you like to see the rest of this article and all the other benefits that Issues Online can provide with?
Useful related articles
Video and multimedia references
Statistical information and reference material
Glossary of terms
Key Facts and figures
Related assignments
Resource material and websites