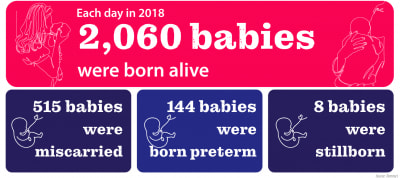 The latest UK statistics about pregnancy loss and complications.
Every baby deserves the best start in life, and we are committed to funding medical research and providing information to help more mums and dads have a healthy pregnancy and birth.
Around 60,000 babies are born prematurely each year in the UK.

In the UK, it is estimated that 1 in 4 pregnancies end in loss during pregnancy or birth.
Key statistics about pregnancy and loss in the UK
712,680 births were registered in 2019 (640,370 England & Wales; 49,863 Scotland; 22,447 Northern Ireland)

There were 2,763 stillbirths in 2019 (2,522 England & Wales; 174 Scotland; 67 Northern Ireland)

Approximately 60,000 babies were born prematurely in 2019

An estimated 1 in 5 pregnancies ended in miscarriage (1 in 8 if we only count women who realised/reported the miscarriage)

Estimates suggest there are 250,000 miscarriages every year in the UK, and around 11,000 emergency admissions for ectopic pregnancies

There were 2,131 neonatal...
Want to see the rest of this article?
Would you like to see the rest of this article and all the other benefits that Issues Online can provide with?
Useful related articles
Video and multimedia references
Statistical information and reference material
Glossary of terms
Key Facts and figures
Related assignments
Resource material and websites