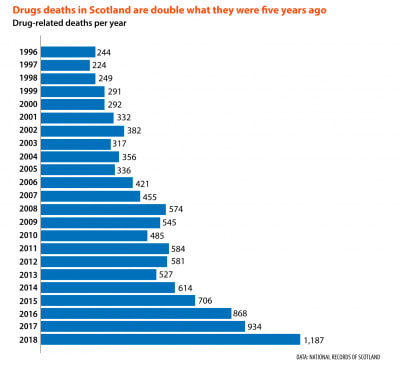 More than 1,000 deaths involved methadone, heroin and morphine, but a large percentage of those who died - 792 - had also taken pills such as diazepam.
By Auslan Cramb
Scotland's drugs death rate is now higher than the USA and every other country in Europe, and three times the UK average, according to shocking new figures.
The statistics released on Tuesday revealed that 1,187 people died following drug use last year, an increase of 27 per cent on 2017.
Methadone, the heroin substitute prescribed by the NHS to help heroin users, caused more deaths than the drug it is meant to replace and contributed to nearly half the total mortality figure.
The National Records of Scotland said the country now had a higher mortality rate than any other country in Europe.
In the US, the latest figures suggest a drug death rate of 217 per million people, compared to a figure in Scotland of 218 per million.
The Scottish total is at the highest level since current records began in 1996 and is more than...
Want to see the rest of this article?
Would you like to see the rest of this article and all the other benefits that Issues Online can provide with?
Useful related articles
Video and multimedia references
Statistical information and reference material
Glossary of terms
Key Facts and figures
Related assignments
Resource material and websites