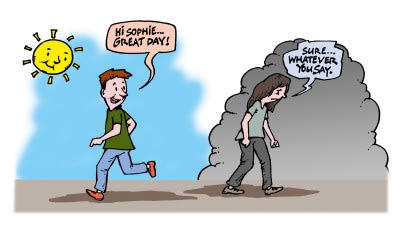 Young Scot, Dionne McFarlane shared with us her experiences of living with depression.
For people suffering from depression it can be difficult for people that are close to understand. Depression is the most common mental health issue in the UK. Through my experience of living with depression, this is what I think is important for people to know and try to understand.
1. We can't just snap out of it
This can be frustrating to hear, and it shows that the person you're speaking to really doesn't understand how you're feeling. You can't just snap out of depression – it's impossible. I'd describe depression as feeling like drowning – no matter how hard you try to fight back it overpowers you and there's nothing you can do about it. Depression feels like a constant battle and it's exhausting.
2. We don't always have a reason as to why we're feeling depressed
This is something I've noticed others find hard to understand. To someone who hasn't ever experienced depression it can be eas...
Want to see the rest of this article?
Would you like to see the rest of this article and all the other benefits that Issues Online can provide with?
Useful related articles
Video and multimedia references
Statistical information and reference material
Glossary of terms
Key Facts and figures
Related assignments
Resource material and websites