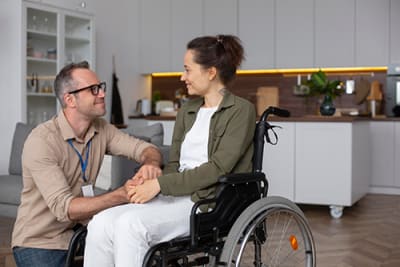 Investment in social care could generate between £6 billion and £20 billion for the economy by helping disabled people into work, disability charity Leonard Cheshire reveals. To champion the life-changing and empowering impacts of social care, it is launching a new campaign, Care for Equality. Find out more and how you can get involved.
By Leonard Cheshire
If the government reforms social care it could boost the economy by £6 billion to £20 billion, including £1-4 billion in income tax.
Our new findings, based on economic modelling (see more on this below), show social care has the potential to pay for itself, with previous studies by The Health Foundation indicating an additional £2-12.2 billion is needed annually to bridge the social care funding gap.
More widely available social care would allow many disabled people to increase their income through entering work, progress existing careers or increase their working hours.
More importantly, it would empower disabled people to live...
Want to see the rest of this article?
Would you like to see the rest of this article and all the other benefits that Issues Online can provide with?
Useful related articles
Video and multimedia references
Statistical information and reference material
Glossary of terms
Key Facts and figures
Related assignments
Resource material and websites