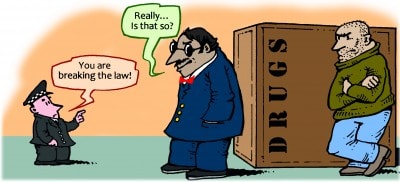 The Health Committee has said the UK's war on drugs is failing as drug related deaths are now a public emergency.
By Stephanie Price
In a call for radical change to UK drugs policy the Health Committee of MPs has said the UK war on drugs is failing and has recommended decriminalising drug possession for personal use.
This year the UK saw its highest ever levels of drug related deaths – making the UK the country with the highest number in Europe, three times higher than the average. Deaths in England rose to 2,670 in 2018; an increase of 16% since 2017. The majority of these deaths were opiate related.
The committee also recommends increasing the funding available as a matter of urgency in order to ensure that heroin assisted treatment, naloxone, and needle and syringe programmes are available.
UK war on drugs failing
The report acknowledges the UK's failing war on drugs – noting that the Modern Crime Prevention Strategy states that offenders who regularly use heroin, cocaine and cra...
Want to see the rest of this article?
Would you like to see the rest of this article and all the other benefits that Issues Online can provide with?
Useful related articles
Video and multimedia references
Statistical information and reference material
Glossary of terms
Key Facts and figures
Related assignments
Resource material and websites